OC Eid Advertisement
How would you like to advertise your business or organization to a captive audience of 20,000 Muslims? Have you always wanted to advertise on a stadium Jumbotron? This is your chance!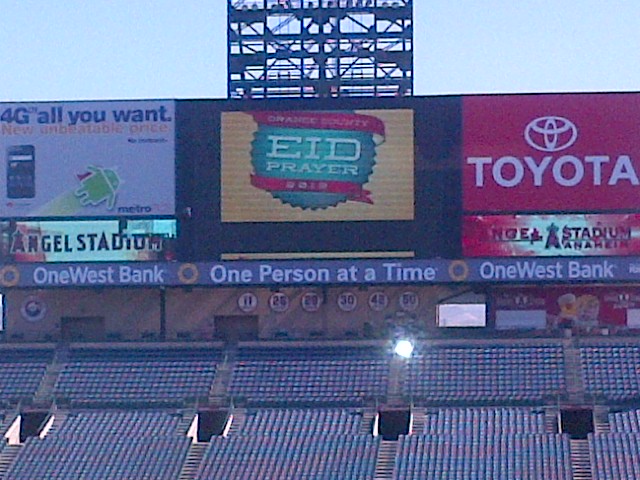 Package 1 ($799)

Dedicated table with 2 chairs at the stadium
Looping Jumbotron ad (static image)

Package 2 ($499)

Looping Jumbotron ad (static image)
For businesses and organizations

Package 3 ($399)

Dedicated table with 2 chairs at the stadium

Package 4 ($150)

Eid Greeting message on Jumbotron (text only)
For individuals and families

Advertisement Rules and Requirements

Vendors may not sell goods. No cash transactions allowed or collection of donations allowed. Non-profits may be able to sell tickets for upcoming events upon authorization from Organizers. Any other special activities must be cleared by Organizers.
Package 1 ad spot must be 720×480 in size (72dpi) and should have 92pt font size to be readable from the jumbotron. Package 4 greeting should be a short message, e.g. "Eid Mubarak from Muhammad Ahmad and Family". Artwork and Greetings must be submitted to vendor@oceid.org no later than 8/30/17.  All ads are subject to approval by OCEid.  No political campaign ads will be allowed.
Flyers may not be left on any vehicles in the stadium parking lots.
Advertising may only be conducted at the tables. Flyers cannot be distributed in any other areas of the stadium or field.
Advertisers are responsible for the setup and cleanup of their tables. Setup can start at 6:00 A.M., and cleanup should start at 9:00 A.M.
Advertisers are responsible for any materials at their tables. Organizers will not be responsible for any unattended valuables at the tables.
Electricity shall not be provided at tables.
** NO UNAUTHORIZED FLYER DISTRIBUTION IS ALLOWED **
For more information, please email vendor@oceid.org
You must submit the signup form in addition to submitting payment.
Click here to download the signup form.